Planning for a Multimodal Ecosystem
Transit planning is a complex rubric combining unique infrastructure, modes of transport, goals, and limitations. These intersecting elements mean that there is no limit to potential solutions, this guide can help determine the best way to combine modes and allocate resources in order to meet your community's mobility needs.
---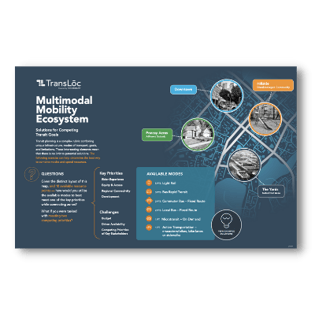 First, take a look at part 1 of this exercise. Then, download part 2 below to see how our experts responded.
View this example scenario highlighting common mobility challenges faced by communities everywhere. Some of these situations may sound familiar!
As you begin to dive in, consider possible solutions that may be achieved with multimodal transportation.